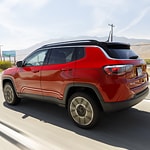 One of the leading compact SUVs on the market today, the new Jeep Compass offers an impressively designed exterior that makes this vehicle more than ready for any adventure. While it can be easily driven in city traffic and used for everyday purposes like running errands, it excels at being driven in off-road conditions. In fact, its exterior is designed for the rough and rugged outdoors in mind.
To help you see better in rough driving conditions, the new Jeep Compass has LED headlamps and fog lights. They illuminate dark country roads that can be difficult to navigate without bright head-on lighting.
It also has 66 feet of cargo space for hunting and fishing gear. You can pack everything that you need for any outdoor excursion in the back. To experience the exterior designs that the new Jeep Compass can offer to you today, you need to test drive one first.