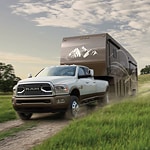 Some people love their vehicles to a great extent, and there is nothing wrong with that when you have something that you have customized from the very beginning. The Ram 3500 offers that in spades. You get a lot of nice features automatically, but there are also plenty of additional perks that you can throw in yourself.
The small details have not been overlooked. Consider the LED bed lighting in the truck. This is great for when you need to get something out of the bed of the truck after the sun has gone down. It seems like such a small thing, but a lot of people work late into the evening on their property, and a tiny feature like this can make their day a lot better.
Think about this and understand that you will not find another vehicle that has it all like this one does. You should look into one today.